Stay in the loop on
workplace wellbeing 
Join ROW Green for FREE and stay up-to-date on the rapidly changing world of workplace wellbeing:
Get weekly Wednesday emails with bite-sized workplace wellbeing tips and curated resources from around the globe.

Get invites to our monthly Wellbeing Wednesday webinars.
We have a large community of wellbeing managers and champions from around the globe in our network.
ROW webinars often fill quickly, and the only way to get an invite is by ROW email. Hear from workplace wellbeing experts and get insights from case studies. Take part in the audience Q & A. Plus, get timely resources and more that you don't want to miss.
Want a sneak peek on webinar topics? Listen to previous webinars that have been edited to be part of our podcast series.
ROW Green is ideal for anyone with an interest in workplace wellbeing. Start learning how to build well-centred workplaces that put people first and  unlock performance.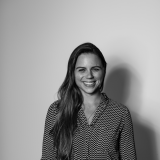 Loes Dermott
Parkable
Operations
During the first lockdown I watched a lot of webinars, many on wellbeing and I connected with a lot of the speakers and participants on LinkedIn. The themes are topical, the discussion important.
