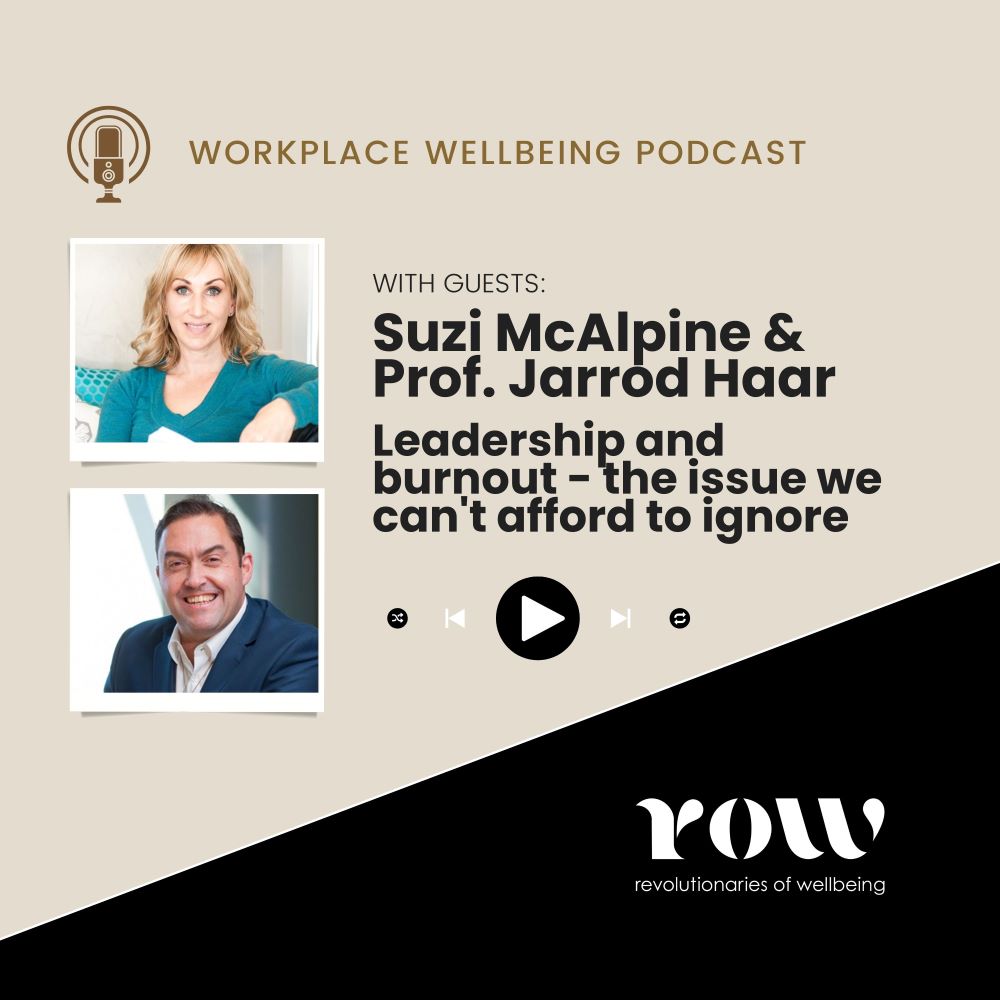 Episode 18: Leadership & burnout – the issue we can't afford to ignore
In this episode, we turn our focus to burnout. Burnout is increasing, and it seems to be everywhere at the moment. New research out of AUT suggests 11 per cent of New Zealand workers might be experiencing burnout.
Globally, COVID-19 has increased pressure on working adults as they juggle uncertainty, work and life commitments. For those in a leadership role, the pressure can be even greater.
To take a deep dive on the topic, we are joined by two of New Zealand's leading experts: Professor Jarrod Haar of AUT's business school and Suzi McAlpine, leadership coach and author of the popular new release book – Beyond Burnout: A New Zealand Guide.
We discuss what burnout is, the signs and symptoms, and the impact of burnout on self, loved ones and work. Plus, we explore the impact of burnout on leaders and business productivity. Plus, we discuss those all-important solutions to avoid burnout, and what to do if you're already there or supporting someone to recover.
Our guests:
Professor Jarrod Haar: Professor Jarrod Haar (PhD) is a Professor of Human Resource Management in the Department of Management and has tribal affiliations of Ngati Maniapoto and Ngati Mahuta. In 2018, Professor Haar was appointed as a Member of the Marsden Fund Council and is the Convenor of the Marsden Economics and Human Behavioural Sciences panel. Jarrod is a Research Fellow of the Australia & New Zealand Academy of Management (since 2012), an Associate Fellow of the Human Resource Institute of New Zealand (HRINZ) and won the inaugural HRINZ HR Researcher of the Year Award in 2016. In April 2016, he became the Deputy Director of the NZ Work Research Institute. In 2017, he won the Faculty of Business and Economics (AUT) Individual Researcher of the Year. His research approach spans broadly across a wide range of management topics, but with a strong focus on Human Resource Management and Organizational Behaviour.
Suzi McAlpine:  A leadership coach, award-winning blogger and keynote speaker, Suzi works alongside CEOs, managers and executives to facilitate clarity, direction and optimal performance in the areas people need it most. Suzi McAlpine is a Leadership Development Specialist and author of award-winning leadership blog, The Leader's Digest. She writes and teaches about accomplished leadership, what magic emerges when it's present, and how to ignite better leadership in individuals, teams and organisations.
Suzi has been a leader and senior executive herself, working alongside CEOs and executive teams in many guises. Her experience has included being a head-hunter and executive coach, and a practice leader for a division at the world's largest HR consulting firm.
Be invited first to ROW webinars
Join in on webinars with experts learn about important workplace wellbeing topics.