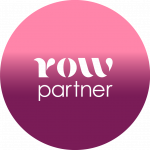 our ROW PARTNER network
ROW is supported by an incredible team of wellbeing experts who partner with us to deliver outstanding solutions for ROW Gold members and clients. ROW Partners work with ROW to deliver programs, workshops, coaching and more.
These experts are highly experienced and they're driving change in the world of workplace wellbeing. They are pioneers, champions, and leaders; revolutionaries.
Some of our core ROW Crew also have their own businesses focusing on particular areas of wellbeing – which is why you might see them as ROW Crew and ROW Partners.